Harry Williamson ia a musician,  sound engineer and inventor, with a passion for the natural environment and intelligent design.
He was part of the 70s progressive music scene in England,  working and playing in a range of roles.
Early Years

Harry's interest in music began at age 4 when he played and sang in his mother's primary school music/dance troupe. Every child took part in the morning band practice, and Harry was initially given a Bass Drum to keep time. On the way home from school, he'd rech up on tiptoe to find the hidden keys and let himself in to a deserted Methodist Chapel, playing harmonium for hours until the light faded, pedalling furiously for the Diapason Stops and then relaxing with the gentler Vox Humana. Tones and Chords, spontaneous melody and drones hung in the musty air as the afternoon turned to evening and Harry woke from his trance to realise there were still 3 miles uphill to walk in the deepening gloom.
He spent a bohemian childhood living in a caravan in a field overlooking the North Devon coast with his mother Christine and father Henry Williamson, acclaimed author of over 50 novels, including 'Tarka the Otter'. When Harry was nine, he won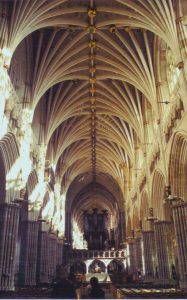 a scholarship and became a choir boy at Exeter Cathedral, under Lionel Dakers (later head of RSCM in London), where he learned to sight-read, and started piano and organ lessons. In his teens he took a few guitar lessons from his brother in law,  virtuoso Julian Bream, played in various jazz and rock bands at Millfield School where he met Richard McPhail who introduced him to Genesis. He studied Physics at Imperial College, London.
Glastonbury 1971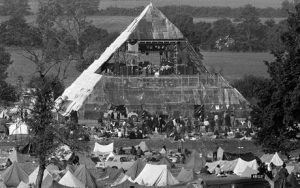 In 1971, Harry volunteered to return to Glastonbury, just down the road from Street where he had been at school. Michael Eavis was planning to hold a solstice festival there and Bill Harkin designed a 1:10 model of the great Pyramid of Giza as a stage. Harry was asked to wire up the stage and as the festival dawned performed his first major crowd workshop. Nick Roeg  filmed the event and a 100 ton crane , planned for his aerial shots, became bogged up to the axles right in front of the stage which had taken weeks to build.
A succession of tractors and bulldozers  dug the ground , and it seemed nothing would move the crane.
Taking the initiative, Harry summoned  600 people who were watching the drama unfold. Explaining that a simple laying on of hands and a light push, mimicking those extraordinary masons who had constructed the real pyramid, would according to the laws of Physics create a much large force than slippery tires in mud. He managed to convince the crowd to push the crane together, and, miracle of miracles, the beast crept smoothly off the site to safety.
Thereafter during the festival when the generator failed or other major things went wrong, there arose in the audience, some 20,000 strong, variations on a chant of 'Hari, Hari fix it Hari'
The Rainbow Theatre
Shortly after the festival, Harry was recruited to help install Europe's first major permanent Rock venue.  The  Legendary 'Fillmore Far-East', the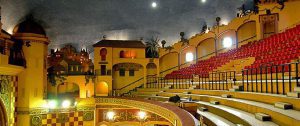 Rainbow Theatre, in Finsbury Park London became his home, and he was appointed stage manager. He  helped mix bands like The Who, The Byrds, Pink Floyd, Santana, Curtis Mayfield  Frank Zappa and Mountain, and lived in three of the 140 dressing rooms of the amazing Rococo theatre.  There were  stars in the Dome of Heaven, a Greek Temple in the Foyer with working fountains and a full sized Spanish Village where crew members  were allowed to sit and watch shows, provided they didn't create a distraction. They were supposed to blend in with the scenery.
The Rolling Stones Tour 1976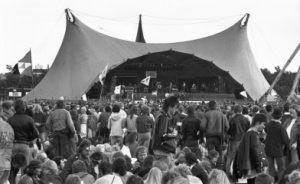 In 1976 Revelation Staging won the contract to fabricate the first large acoustic tensile canopy in Europe, financed by the controversial 1976 Rolling Stones European Tour. The company moved into a disused fire station which had the space necessary to lay out the huge panels and stitch them by hand. The cutting was scaled up from a 1:50 model, measured by a wheeled dial. The finished canopy weighed over a ton and when erected could house more than 15 articulated lorries. With 70 tons downward tension, a small car could easily drive over the surface, provided it didn't rip through.
Stories from that legendary era are many and varied, but maybe neatly summed up by Charlie Watts' reply to the question
"What is it like being the drummer?" posed at a urinal in Paris before a show, to which he replied
"I used to be an electrician and its pretty much the same, only the pay is better"

The Orange Canopy
The canopy was so well made, it was sold the the Danish Festival at Roskilde. There it  stood until 2001, having delighted millions of fans with its beauty and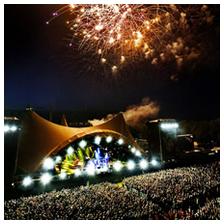 Roskilde Festival 07 – (77th) – Orange Stage – wonderful acoustics, which Mick Jagger told us were "the best sound I've ever heard, anywhere" This is because all the surfaces are convex, and so have NO focal points within the structure, allowing precise un- coloured audio to permeate evenly.
The plastic canopy was replaced  in 2001, with – a new Orange Canopy, slightly larger, to allow better rain protection.  It has become a national icon.
The Green Pyramid and Sphynx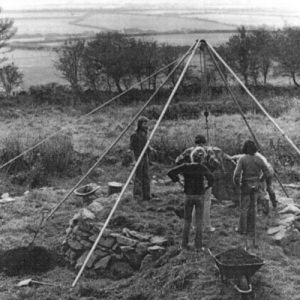 In 1977  Harry and friends build a mobile stage and green pyramid tent, and set off for Glastonbury.  Joining in Nick Turner's production of the 'Egyptian Book of the Dead' with the band Sphinx they played at Stonehenge, Deeply Vale,  Edinburgh Festival and the esoteric community Findhorn! During this time he and his partner Carol were christened 'Electric Gypsies'. The pyramid was struck by lightning during performances no less than four times that year and eventually, it was retired, having survived – but only just. Unbelievably no-one was injured. A roadie clasping a support pole during a strike and was illuminated with a bright blue-green halo of ionised gas. Trippy!
Gong
Some time later he met  Gilli Smyth and joined the Gong family. He toured the States for the first time in 1978 as part of the Zu Manifestival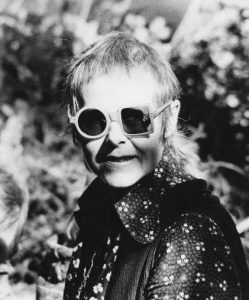 promoted by Georgio Gomelski, again on a big bus, with 18 musicians including Daevid Allen, the young Bill Laswell, Yoshco Seffer, Stu Martin ( who had played with Charlie Parker) and many other luminaries. They played 36 cities in 40 days and Harry drove the bus across the states and back, without mishap, but many raised eyebrows. The story of the tour was written in black texta on the outside of the bus, complete with violent cartoon courtesy of the New York punks who backed the bands. The first gig was at CBGB's and it went sideways from there.
Returning from the US Gilli and Harry played Glastonbury in 1979 on the main stage as Mother Gong, and repeated this again in 1982 where the album Robot Woman was recorded.
Move to Australia
After the death of his father and the eventual sale of Oxes Cross, which had been Harry s home since birth, by his elder brothers,  Harry & Gilli & their extended family – Tali, Orland and Bee – moved to Australia in 1982, and Harry continued recording, touring and living with them until 1992.
When they settled in Melbourne,  he set up his own facility – Spring Studio –  in 1983. There he helped many emerging artists with affordable recordings – Wedding Parties Anything, Big Pig, the Wolfram Sisters, Zimmermen and many others, launching them on the path of their respective careers.
He worked at the Princess Theatre as sound engineer in 1983-4  and became a partner at Richmond Recorders where he set up his first Vinyl Record Plant and taught himself to cut, process and press records. That skill set is in increasing demand even in 2017.
Gilli and Harry divorced in 1992 after fifteen years of creativity, and many deep changes in their worlds. Harry remained in Melbourne and moved to Prahran,  concentrating more on studio production.
In the 1990's Harry spent several years with the exceptional Australian born singer Liz Van Dort, working under the name of 'Faraway', and released an eponymous album, inspired by the Thomas Hardy novel.
Now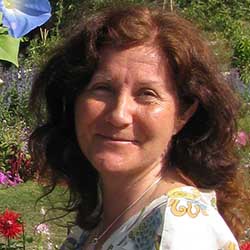 he still lives in East Melbourne with his parner Maribel Steel, writes, arranges records and produces music with a range of friends, ranging in style from Acoustic folk to Choral Music, Indian Classical, African, Theatre, Jazz,   –  you name it.
In the last few years he has diversified into  video production and editing, which he greatly enjoys.
He completed a series of full length DVD's for international release of a concert he filmed in Amsterdam in November 2006 featuring 15 bands from the Gong family a 40 year reunion – the GONG Unconvention – see  Selected Video.
He worked in 2009  with his long time partner Maribel Steel on a world premier performance of Tarka which took place on Feb 27th 2010 at Melbourne Town Hall.
In 2011 Harry was awarded the contract to the City of Melbourne to refurbish the Federation Bells at Birrung Marr, and continues to monitor and maintain this fascinating world class instrument, rated by the BBC and Lonely Planet as in the top 10 interactive art installations in the World.
Turning hand to timber and steel, he designed a Modular Sound Booth system using an updated version of the BBC studio design principles. These booths can be installed in half a day and are proving popular with a varied client base.
The Mission Statement
has not changed.   'If its worth doing, its worth doing well' has served the purpose for over 40 years.