Sting & the Radio Actors
Harry's involvement with fledgling Ecology party, which became the Greens,  led to the creation of an anti nuclear benefit group, The Radio Actors, which featured Sting, Harry, Nik Turner, Steve Hillage, Mike Howlett and Steve Broughton.
A single, Nuclear Waste, written by Harry & Nick and sung by Sting, was released by Virgin and then Charly to raise money for nuclear awareness. Now available through Voiceprint/Blueprint. When Harry asked Charly Records about royalties on the 10,000 copies they pressed he was reminded that if he wanted to walk out of the office he should not ask that sort of question. Charly had their accountant in Lichenstein and their lawyers in PANAMA!
Mother Gong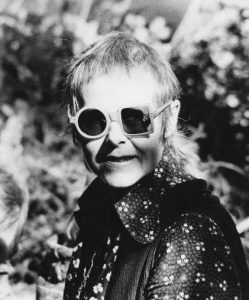 Harry went to Deya, Majorca in early 1978 to write music for Gilli Smyth's proposed LP 'Fairytales', a follow up to her debut solo album, 'Mother'.
During the visit they fell in love and travelled to England together. They spent a few weeks in the snow bound hills near Welshpool with Dave Anderson recording the epic Wassilissa which made up side A, and three other tracks for side B.
Didier Malherbe played Flute and Sax, Dino Ferrari played Drums, Trevor Darks played Bass with Mo Vickerage on Keys, Eduardo Niebla – Spanish guitar, Nic Turner visited  and played Oboe and   Corrina voices. This first Mother Gong Band was invited to play at Glastonbury festival main stage in summer '79.
When searching for a new direction for the band, Harry revisited his love of science fiction and with Gilli created the Robot Woman  which eventually became a trilogy. It explored the paradigm of fixed role identity, and confronts gender assumptions directly: as such it drew inspiration from 'The Stepford Wives' (1975). The first album gained popular support after the 1982 Glastonbury performance  on the Pyramid stage with Didier, and this time Yan Emeric on Lead Guitar,  Dane Cranenburg on Bass and Guy Evans ( ex VDGG) on Drums. Harry played guitar and sang the male characters, while Gilli as the Robot, told her story.
This line-up recorded both Robot Woman  and much of Robot Woman 2, completed just before the family moved to Australia. Robot Woman 3 was recorded at Spring Studios and Richmond Recorders in Melbourne and features an entirely different cast, including Silly Symphony voices, and Matt Arnold on Violin.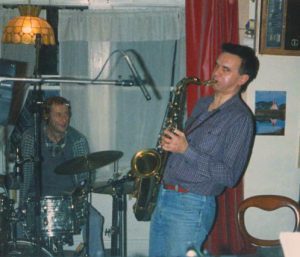 In 1988 regular weekly recording session were instigated at Spring Studios in St Kilda, and Mother Gong mark 3 was born. Complimenting  Gilli and Harry were Robert Calvert – Sax, Robert George – Drums and Conrad Henderson – Bass. Harry played guitar and keyboards alternately, sometimes both in one piece. This is the band that created the most deep improvisations and free music together with SCM, the Spontaneous Compositional Method coined by Rob Calvert from his days with John Stephens in the UK. The band created seemingly written pieces on the fly – sometimes. They went back to the UK to record Wild Child, and toured extensively, later touring the US in1991, which was the final tour with Mother Gong for Harry.
The St Kilda session produced the albums Tree in Fish, I am  a Tree ( with Daevid Allen) and Buddha'a birthday, all extensively improvised but with a solid basis provided by Rob George and Conrad Henderson.
Daevid Allen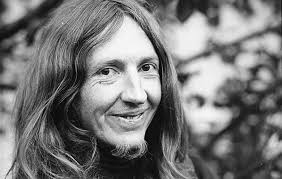 Harry officially met Daevid Allen at Glastonbury in 1971, unaware of Daevid's history and lineage. They immediately clicked, but it was not until Harry got together with Gilli and Daevid moved off with Maggie Brown that their relationship deepened.  There was an unusual chemistry between them. Harry remembers a day in 1969 at lady June's Maida Vale apartment when Daevid, Kevin Ayres and a few fellow Soft-Machinsts arrived to create a tape collage.   Harry found himself roped in to record and edit the voices and effects on an ancient Revox, for people he had only just met. There was an air of familiarity and ease.
Again later Harry arrived at the Gonghouse ( during the legendary Virgin Manor days) in Oxford on the very day Mr Allen had decided to leave the band and Steve Hillage found himself fronting a very confused group.
Some thought it was a sign, a replacement, and asked Harry if he'd like to take a part in the band, but it was not to be.
Harry always loved Daevid's turn of phrase and whenever they met they would end up creating something unusual. Art  Radio Programs and the Albums – She, Australia Aquaria, Owl in the Tree, Stroking the Tail of the Bird, n'Existe Pas, 12 Selves, The Death of Rock, Gongmaison, 22 Meanings and the live Gong reunion at the Unconvention – the final reunion – were all recorded and mixed by Harry.
It was with sadness that Harry witnessed the passing of his old mate and confederate in March 2015 in Ocean Shores, Northern New South Wales. He is greatly missed.
Faraway
In 1992 Harry started to work with a wonderful Australian singer, Liz Van Dort.  She is giftedwith a voice capable of conjuring many styles and together they created Far from the Madding Crowd, a duo to explore the possibilities. After several years work the album Faraway was completed and released in 1998 through Voiceprint. They visited the UK to promote the release and its was later re-released in 2001 under Prikosovenie in France.
Harry Williamson and Friends

Harry released his first 'solo' album in 2000. Entitled 'Life in the World Unseen' its inspiration comes from a book of the same name describing the spirit world , where buildings are composed of music. You'd have to read it to understand. You can hear an excerpt from Life in the World Unseen Pt 4  here.
Gifts to Colleagues
Being a musician and producer can pose problems, but also bring much joy. In his life as a producer-engineer, there have been countess times where he has been invited to contribute ideas or play some parts in a project. You can hear his work on albums by  Andy Rigby, Ashley Higgs, Bronwyn Calcutt, Chris James, Daevid Jaeggi, Hanna Yaffa, Harry Jackson,  Kavish Mazzella, Kerry Lehrner, Lindsay Buckland,  Liz Stringer, Loise Krol, Malcolm Turnbull, Matt Harvey, Nahabilanada, Ron Kingston, Themis Aranibar, Unamunos Quorum and Wendy Ealey –  and many many others over the years.
Harry thanks you all, its been a pleasure and an honour.