Dry double- glazed plate glass window 900 x 720 set at an angle to minimize reflections and optimize visual communication. The Window module acts as the connection module to the 'outside world'.
All standard electrical and audio connections are made through this module.
Outside sockets are close to the ground to minimize trip hazard.
Internal sockets are at waist height to allow  easy patching
AUDIO IN/OUT
Stand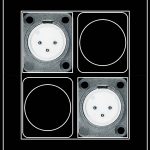 ard- one external audio panel pre-wired to one internal audio panel. Expansion – up to 4 Extra panels to your spec ( 4 connectors per panel) , so 20 channels. Connectors may be XLR (M/F) – ¼" Jack – Cat 5 – BNC  etc from the Neutric panel mount range installed to suit your requirements.
Future expansion – although all parts are designed to dismantle, extra In/Out options require woodwork, so its best to install what you need at purchase time.
240V MAINS IN
One 10 amp General Purpose flush mount 240V inlet socket accepts a standard 10 amp extension cable.
RCD PROTECTION – Internally mounted Earth Leakage Residual Current Device  and circuit breaker – This Australian Standard Installation will automatically disconnect the mains in the event of a short circuit or path to ground being detected. The isolation and reset switch is accessible through a small hole in the lower panel
Both Audio and Mains external connections are housed towards the bottom of the Window Module for simplicity, and to reduce trip hazard.The plates are recessed to prevent damage and to allow for flat packing of the modules while in transit and during assembly.
OPTIONAL EXTRAS
Internal 240 GPO Outlet pairs for Laptops, Amplifiers etc as required
Additional Audio Patch Panels as required
Customized Wall modules that have Interconnections are available to special order.
The booth is regarded as a caravan (i.e.  mobile room)  for electrical regulation purposes and all mains wiring conforms to Australian regulations
* Copy of Certification document available on request.
* SELV – Safe Extra Low Voltage Wiring is an Australian standard wiring perfectly suited for this type of application